Solar Impulse 2 to Make New York Fly-over at Night
Solar Impulse landing at New York's JFK airport after making the short trip from Lehigh Valley in Pennsylvania.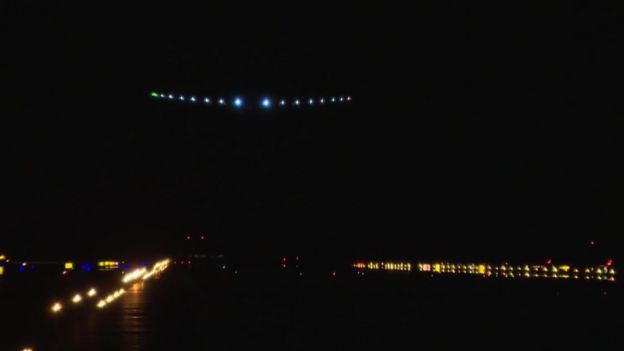 It's not a UFO its the Solar Impulse 2 coming into land at JFK. After this promo flight, there are plans to fly around the world without using any fuel. Wow, not a plane I'd want to be in.
Taking off late on Friday night local time, the aircraft spent a good part of the journey turning around the Statue of Liberty for a photo shoot. This latest flight marks the completion of the trans-America portion of the quest to circle the globe on no fuel. Solar Impulse must now prepare for a daunting crossing of the Atlantic.
As he approached the famous landmark, pilot Andre Borschberg spoke with the BBC via satellite phone.
"The US is a country where you meet a lot of entrepreneurs and pioneers, and so to end our American crossing at the Statue of Liberty – which represents for me the freedom of enterprise and the freedom to innovate that is the spirit you can find in this country – is so symbolic."