Will Our High Speed Train Measure Up To Russia's Bullet?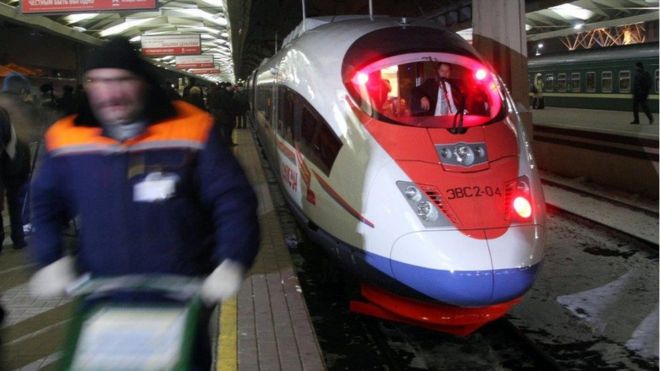 It's early morning in Moscow as the Swallow commuter train pulls out of Leningrad Station.
I'm on the first leg of a 650km (400-mile) journey to Russia's second city, St Petersburg – a route that has seen a revolution in rail travel.
For those who can afford it, the new Sapsan high-speed service has cut journey times from eight hours to just four, offering luxury, leg room and onboard Wifi.
But I'm foregoing this high-tech, 21st-Century experience and will be traveling on ordinary suburban trains.
I want to find out if progress on the railways has been matched by improvements in the lives of ordinary Russians living near the tracks.
The Swallow is full of business travelers, and I'm sitting next to Pavel, a middle-aged company manager.
He is reading a fantasy novel about time-travelling Stalinist secret agents.
"Stalin was a man who made our country great," says Pavel, as we rattle through Moscow's bleak suburbs.
"Everything was ruined in the 1990s, and the people in charge aren't making any attempt to rebuild it."
Our first stop is Klin, a nondescript town 90km outside Moscow.
Its main claim to fame is composer Pyotr Ilyich Tchaikovsky, who spent his summers here.
The town hopes the legacy of the great 19th-Century composer will help revive its 21st-Century fortunes.
Two years ago a well-connected businessman, Igor Chaika, launched an ambitious project to turn Klin into a Russian Salzburg, like Mozart's much-visited birthplace in Austria.
There were plans to revamp the town centre, build a metro, and start an annual Tchaikovsky festival.
Two years on, Igor Chaika has pulled out, but his name and the project featured in a widely-publicised opposition video last year, accusing him and his father – Russia's chief prosecutor Yuri Chaika – of corruption. Both deny the allegations.
This incredible train cuts journey time in half. I don't think our HS2 comes close to this kind of performance. So is it really worth the investment? I wonder how much over budget will it be.
Some reports claim the HS2 project will destroy woodlands, wooded for hundreds of years, the conservation agency Natural England has warned.
Read more here at http://www.bbc.co.uk/news/world-europe-37766289
By Seva BoikoBBC Russian
28 October 2017